Valentines Story Comprehension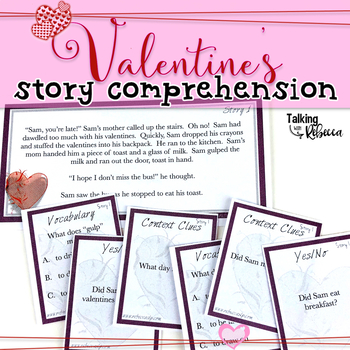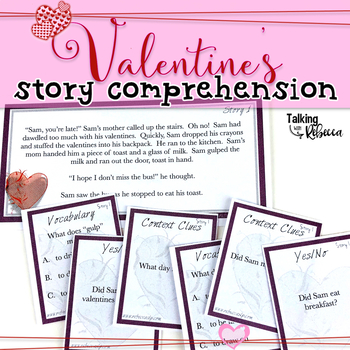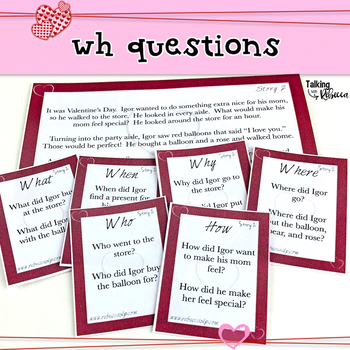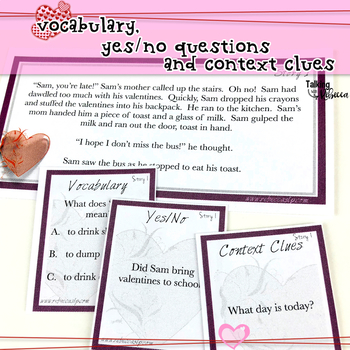 Price: $3.00
SKU: M-valentines-story-comprehension
Themed short stories are an effective way to engage students while working on receptive language skills. Incorporate the fun of Valentines Day into your speech language therapy room or centers with these stories and comprehension questions. Three decks of cards target various language goals to work on skills across your caseload. Each deck of cards includes three stories and corresponding questions. What's included • Deck 1: "Wh" questions The large card on each page presents a short story. Each question card holds two questions for the target question type. Questions include what, when, where, who, why, and how. • Deck 2: Context clues, "yes/no" questions, vocabulary Valentine's Day stories are provided on the large card. Students use context clues to answer comprehension questions about the story and to understand new vocabulary. • Deck 3: Inferencing and predicting The large card contains a short story regarding Valentine's Day. The smaller cards contain questions for inferencing and predicting. • Reinforcement game board: An thematic open-ended game board is included to use as motivation with groups of children. Player pieces and die not included.
Tags
Category
Winter Speech Therapy
Get Notified
Digital Download
You can use this form to download past purchases.