Short Stories Language Comprehension Seasonal Bundle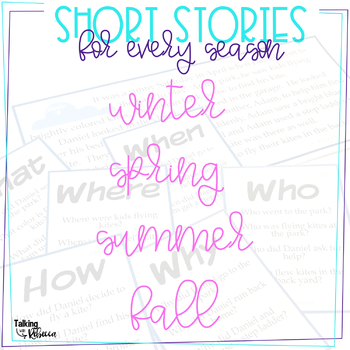 Price: $17.00
SKU: MA-short-slcsb
Engage your students with short stories that work on a multitude of goals! From wh questions to inferencing, this bundle is a year long must have for your class or speech room!
These stories are seasonal and can be broken up into shorter chunks for different skill levels. Multiple short stories per deck means your students won't get bored and can practice their skills over and over again.
What's included:
Deck 1: Includes 5 stories and "wh" questions regarding the story. Each story is printed on a large card, with what, when, where, who, why, and how cards that each contain 3 questions per story.
Deck 2: Includes 5 stories that target context clues, yes/no questions, and vocabulary. Each story is printed on a large card and contains a seasonal scenario. Students use context clues to answer comprehension questions about the story and understand new vocabulary. Two 'wh' questions for context clues, two yes/no questions, and two vocabulary questions pertain to each story.
Deck 3: Includes 5 stories to work on predicting and inferencing skills. Each story is printed on a large card and contains a basic seasonal scenario. Three smaller cards contain questions that require students to predict what will happen, and three cards require students to make inferences regarding the story.
Open Ended Games
Each season includes an open ended reinforcement game. Use it with the stories, or in any therapy session with any speech or language targets.
You may also like
Get Notified
Digital Download
You can use this form to download past purchases.