Rainforest or Jungle Interactive Book for Speech Therapy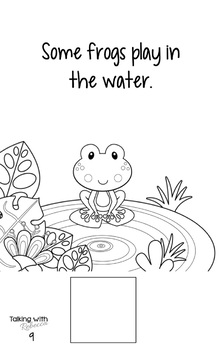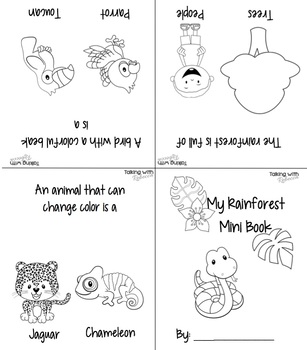 Price: $4.00
SKU: MA-rainforest-ojibfst
In the Jungle is an interactive book to teach preschoolers and kindergarteners about the rainforest. The focus of this book is on increasing vocabulary, actions, and expanding general knowledge.
Included with the book are five activities for follow up after reading the book:
Open ended articulation worksheet - color in the dots after correctly producing the desired phoneme.
Picture scene and vocabulary pictures - follow directions/use prepositions to add animals to the picture
Actions mini book - decide which animal does each action
Rainforest vocabulary mini book - complete the sentence with the correct word/picture after reading "In the Jungle"
Color by action worksheet - color in the animals according to their actions
The book is 18 pages and set up for double sided printing if desired. (Single sided can be created as well.) In the Jungle comes with three versions of the book: full color, less color, and black and white for those who are unable to print in color.
To assemble book, print according to instructions. Laminate and bind, according to instructions. Print, cut and laminate vocabulary cards. Add one half of velcro to vocabulary cards. Place the other half of velcro onto the squares in the book. While reading book, students can match the pictures to the correct page.
Copyright 2016 Rebecca Gnezdova, MS, CCC-SLP
Talking with Rebecca
Need the book in Spanish?
En la Selva Interactive Vocabulary Book
You might also be interested in
Moo Quack What Was That? Interactive Preschool Book
I Have a Pet Interactive Preschool Book
I Can Do Actions Interactive Preschool Book
Follow Talking with Rebecca on Facebook
Follow Talking with Rebecca on Instagram
Get Notified
Digital Download
You can use this form to download past purchases.