No Print Spanish Speech Therapy Articulation R RR and Blends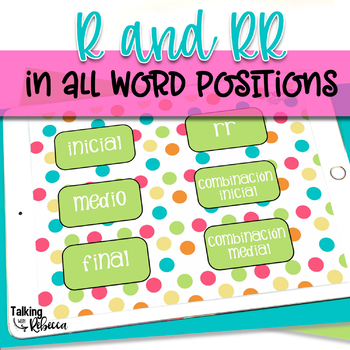 Price: $3.25
SKU: MA-no-psstarrab
Articulation drills in speech therapy can be highly engaging with resources designed for computers and tablets! Your Spanish-speaking students won't be left behind from the fun with this resource for the Spanish tap and trill r (r fuerte and r suave).

No print is the ultimate in hassle-free therapy! No printing, coloring, laminating, cutting… just open on a computer or iPad and go! Select the word position you wish to target, then click or scroll through the target words.

This download is a set of Spanish articulation cards for the 'r' phoneme, featuring words students know! Please note this document has the same cards as the printable "Spanish Articulation R words" download.

What's included
42 initial r words
29 medial r words
36 final r words
28 medial rr words
28 initial r-blends
29 medial r-blends
For a total of 192 stimulus items!


Get Notified
Digital Download
You can use this form to download past purchases.